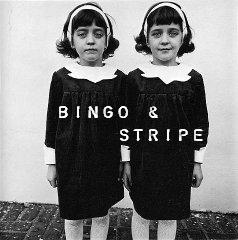 Bingo & Stripe are two very small children housed warmly in the flesh of two extremely large men; Andy Turpen (Bingo) and Mitch Foster (Stripe).
Here's how it works:
1) Stripe (Lansing, MI) composes lil' ditties in one sitting and emails them to Bingo (Atlanta, GA).
2) Bingo then spits some sounds, grunts, yelps, moans and words on them in 3 takes or less.
3) The end.
Their first two CDs are below . . .
In order to view this object you need Flash Player 9+ support!
Related Links:
Bingo & Stripe on ReverbNation
---